What is a Tummy Tuck?
A tummy tuck, medically termed abdominoplasty, is an effective cosmetic procedure in which excess, loose skin is removed from the abdomen, and the abdominal muscles are tightened. A tummy tuck can help patients achieve a more toned, flatter stomach while alleviating medical issues associated with muscle separation (diastasis recti). For these reasons, it's no surprise that abdominoplasty is one of the most popular cosmetic procedures in the UK.
At the CREO Clinic, Dr. Omar Tillo specialises in body contouring procedures and has extensive skills and experience conducting all different types of tummy tucks in London. Through the development of a bespoke treatment plan with Dr. Tillo, patients can enjoy a comprehensive transformation in the aesthetics of their abdomen.
A tummy tuck can be an ideal procedure for patients who have recently undergone significant weight loss and are left with lax skin. Older patients, who typically produce less collagen, and tend to suffer from more saggy skin as a result, can also benefit from a tummy tuck, even after less drastic weight fluctuations.
Following pregnancy and childbirth, many women find that they are left with a surplus of abdominal skin and weaker abdominal muscles, causing a wide array of associated medical problems like lower back pain and poor posture. A tummy tuck with muscle repair can help to alleviate these problems by treating abdominal muscle separation as well as removing the unwanted skin to create a more aesthetically pleasing, contoured midriff. Patients may also choose to undergo a tummy tuck after the menopause, once they have finished childbearing.
Quick Overview of Tummy Tuck Procedure
Anesthesia
Sedation or General Anaesthesia
Tummy Tuck Before and After
Browse the tummy tuck before and afters of patients who chose CREO Clinic for their procedure.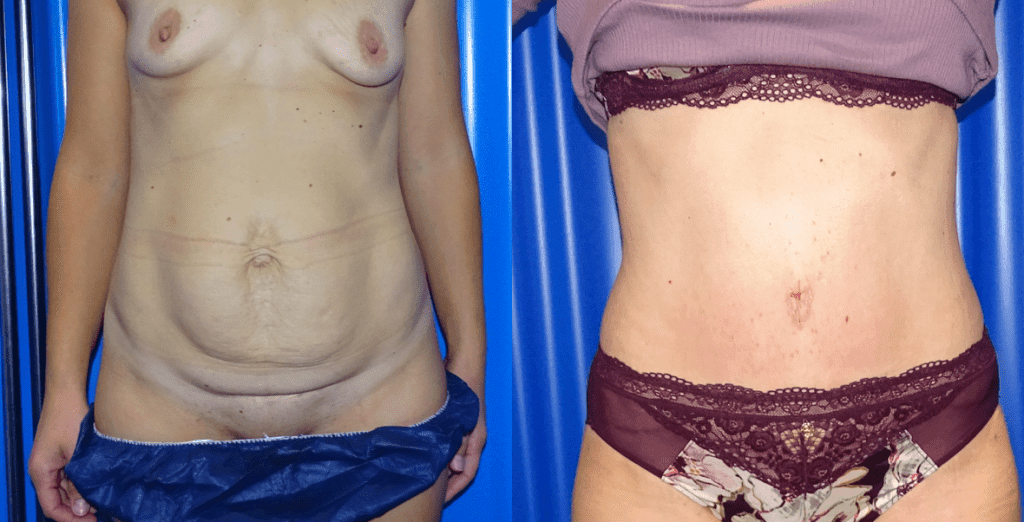 Benefits of a Tummy Tuck (Abdominoplasty)
A tummy tuck can deliver a wide range of aesthetic and medical benefits for patients, including:
Regaining an aesthetically-pleasing flatter stomach, giving patients the confidence to wear more form-fitting clothing
Removing the hanging belly that can develop following a c-section, helping to restore the pre-pregnancy figure
Alleviating medical issues associated with weak abdominal muscles, including back pain and poor posture
Permanently removing stretch marks on the excised skin
Facilitating patients to lead a more active, healthy lifestyle due to the aesthetic and medical benefits of a tummy tuck
Pregnancy, drastic weight loss, and ageing can lead to saggy skin, excess fat, and weakened muscles in the abdomen. As a result, such alterations can result in self-consciousness, limited clothing options, poor posture, back pain, and difficulty exercising.
An abdominoplasty can help patients regain a flatter stomach. As a result, tummy tuck patients are more confident with the appearance of their midriff and can fit into smaller and tighter clothes. Furthermore, a tummy tuck also repairs the abdominal muscle separation, also known as diastasis recti, which occurs after pregnancy and causes muscle weakness and protrusion.
Who is a Good Candidate for a Tummy Tuck?
In general, most adults in good health, with a BMI less than 30, that wish to flatten and contour their abdomen are good candidates for a tummy tuck. However, in order to maintain results, patients should wait until they reach their desired weight, and women should wait until after their last pregnancy. A thorough assessment will be performed by Dr. Tillo during your consultation to determine your suitability for a tummy tuck.
Find out if you are eligible for

Tummy Tuck Surgery
Request a callback
Payment Options Available.
Terms and Conditions apply. Acceptance subject to credit status.
Request a callback
Read Real Patient Reviews
See what our tummy tuck patients in London have to say about Dr. Tillo and CREO Clinic.
How Much Does a Tummy Tuck Cost?
In general, the price of tummy tuck surgery in London at the CREO Clinic starts from £10,900 for a full tummy tuck and from £8,900 for a mini tummy tuck. If you choose to combine your tummy tuck with liposuction (lipoabdominoplasty), prices start from £13,900, with 360 lipo and an abdominoplasty starting from £17,900.
Abdominoplasty is a bespoke procedure, the exact price of which varies depending on the precise surgical needs of each patient. Therefore, you will receive a full cost breakdown of your tummy tuck following your consultation with Dr Tillo.
What Are Your Options for Tummy Tucks?
There are numerous types of tummy tucks, each utilising different surgical techniques and varying in their level of invasiveness. Dr. Tillo will perform a thorough assessment to determine the most appropriate tummy tuck surgery for you, taking into account a range of factors, such as the amount of skin laxity.
Full Tummy Tuck
A full tummy tuck is ideal for patients with moderate to severe skin laxity around the abdomen. It involves two incisions in the lower abdomen, one across the bikini line and another around the belly button. The loose skin can then be removed, and any muscle separation is repaired, after which the belly button is repositioned for a natural-looking result.
Overall, a full tummy tuck creates a more toned and flatter upper and lower abdomen, while alleviating medical concerns associated with weak abdominal muscles.
Mini Tummy Tuck
A mini tummy tuck is a less invasive procedure than a full tummy tuck, and is most suitable for patients with mild to moderate skin laxity. During this procedure, a small incision is made at the base of the lower abdomen, and the lax skin is removed. The mini tummy tuck removes loose skin in the lower abdomen only, and does not typically involve muscle repair.
A mini tummy tuck can help to remove a pooch left behind after pregnancy or a c-section, creating a flatter, more contoured lower abdomen.
Extended Abdominoplasty
An extended tummy tuck targets lax skin around both the abdomen and lower flanks, commonly referred to as "love handles". This procedure involves an incision along the bikini line, extending beyond the hip bones to cover the lower flanks. Like a regular tummy tuck, an incision is also made around the naval. Lax skin is then removed from both areas, and any muscle separation is repaired before the belly button is repositioned.
The extended tummy tuck produces a more comprehensive transformation of the midsection compared to other abdominoplasty procedures.
Fleur-de-Lis Tummy Tuck
A fleur-de-lis tummy tuck is a specialist procedure designed for patients who have excess skin to be removed following significant weight loss, typically due to bariatric surgery like a gastric bypass. It is a more invasive tummy tuck procedure requiring an incision along the entire bikini line, and from the rib cage to the midline of the abdomen. Skin excess is then removed vertically, and muscle separation is repaired, producing drastic results for the upper body.
Preparing for Your Tummy Tuck
Prior to your abdominoplasty surgery at CREO Clinic, you will need to be within a safe BMI range. If you are struggling to manage your weight and reach your target BMI, consider using our dietician services, who can help you reach your goal BMI.
In addition, ensure that you have help for any household tasks, such as cooking and childcare. During the initial stages of your tummy tuck recovery, your body will need time to rest. You should also practise sleeping on your back prior to surgery, as this will be advised for the first 4-6 weeks of your recovery.
Tummy Tuck (Abdominoplasty) Recovery
It usually takes at least 12 weeks for patients to make a full recovery following an abdominoplasty, where they can resume all activities, including intense exercise. However, most tummy tuck patients feel able to resume most of their daily activities, including returning to work, after 1-2 weeks and resuming light exercise after 3-4 weeks.
During the tummy tuck recovery period, you may notice swelling, bruising, and some discomfort in the affected area, which will gradually dissipate. In addition, you may wish to undergo a series of lymphatic drainage massages to manage your swelling and make your recovery as smooth as possible.
You will be given detailed instructions on managing your recovery and be scheduled for two follow-up visits with your tummy tuck surgeon in London one week and eight weeks after your procedure to assess your recovery.
Tummy Tuck Results
The results of a tummy tuck are immediately visible as the removal of excess skin reveals a noticeably flatter stomach. However, it may take 6-12 months for the final results of your tummy tuck to be revealed, after all the residual swelling has entirely dissipated. Furthermore, the speed at which swelling dissipates and results emerge depends on the type of tummy tuck surgery you underwent. Therefore, the less invasive the procedure, the quicker you will see results.
Once you have achieved your final results from a tummy tuck, you can enjoy the full effect of a more toned, firmer, and flatter stomach free of unwanted skin.
Tummy Tuck FAQs
How long do tummy tuck (abdominoplasty) results last?

The results of a tummy tuck are permanent in that patients won't regain the skin laxity or excess fat that was surgically removed. However, patients must avoid further fluctuations in weight through a healthy diet and exercise routine in order to maintain results. Furthermore, patients will likely develop some skin laxity in the area due to the natural ageing process.
What is the difference between tummy tuck (abdominoplasty) and panniculectomy?

While both an abdominoplasty and a panniculectomy are surgical procedures that remove excess skin from the abdomen, a tummy tuck is more comprehensive. A panniculectomy is solely concerned with removing the excess skin that hangs over the lower stomach, whereas a tummy tuck also tightens the full abdomen. Furthermore, a panniculectomy is performed out of medical necessity, as patients can develop rashes and infections within the excess folds of skin. In contrast, a tummy tuck is a cosmetic procedure that enhances the patient's aesthetic appearance by restoring a flatter and contoured abdomen.
Is tummy tuck (abdominoplasty) an outpatient procedure?

A tummy tuck is usually outpatient and can take around 2-5 hours to perform, depending on the type of procedure. In some cases, patients may be advised, or wish, to stay overnight for one or more days during recovery.
Is a tummy tuck worth it?

A tummy tuck is a popular procedure that many patients consider to be worthwhile for both aesthetic and functional reasons. Aesthetically, patients regain a flatter stomach and contoured abdomen. Functionally, patients notice an improvement in their physical abilities due to having a stronger core, as well as improvement in their posture and a reduction in other related ailments such as back pain.
Is a tummy tuck painful?

During your tummy tuck procedure, general anaesthetic is used, meaning that you will be asleep through surgery. After waking up, your surgeon will provide you with thorough aftercare instructions to ensure the most comfortable recovery possible, including any required pain medication.
Are you awake during a tummy tuck?

A tummy tuck is typically performed under general anaesthetic or deep sedation, meaning you are asleep during the procedure.
Can stomach fat come back after a tummy tuck?

Although some small weight fluctuations (5-10kg) after tummy tuck surgery shouldn't affect your final results, gaining a lot of weight can cause you to develop fat deposits in the abdomen as well as lax skin. Many patients choose to combine their tummy tuck with liposuction to permanently remove fat cells from the treatment area. If you gain weight after surgery, you won't redevelop fat cells in the area.
What if I get pregnant after a tummy tuck?

Although a tummy tuck shouldn't affect your ability to get pregnant, it is generally recommended that women wait until after their final pregnancy to undergo a tummy tuck to ensure the longevity of the results. Getting pregnant after a tummy tuck can cause the abdomen to redevelop lax skin and abdominal muscle separation. For this reason, some patients may desire a revision tummy tuck surgery after pregnancy to tone the area and tighten the muscles.
How much weight do you lose after a tummy tuck?

A tummy tuck is not a weight loss surgery. However, you can lose a small amount of weight as the excess skin is removed from the body. Typically, this is up to 4.5kg.
What is the best age for a tummy tuck?

A tummy tuck can be suitable for anyone over 18 years old who is in good health. This means that we have patients in their 50s, 60s and even 70s eligible for this procedure. However, women should wait until after their final pregnancy to ensure long-lasting results.
What are the risks of a tummy tuck?

Like any cosmetic procedure, a tummy tuck comes with some degree of risk of complications, such as visible scarring, wound breakdown and delayed healing. The possible risks and side effects of a tummy tuck will be discussed with you during your consultation at CREO Clinic.
Are tummy tuck scars noticeable?

The extent of your scarring from a tummy tuck will depend on the invasiveness of the surgical techniques required. Scarring around the pelvic area can range from 4 inches for a mini tummy tuck to hip to hip for an extended version. However, these scars can typically be covered by undergarments. In addition, scarring around the belly button is usually covered by the natural contours of the body. The most important factor in minimising the appearance of scars is to find a qualified and skilled surgeon who is able to competently create the incisions, manipulate the skin and close the sutures. Finally, ensure you follow all aftercare instructions provided by your surgeon to ensure proper healing and manage scarring during your recovery.
How should you sleep after a tummy tuck?

After your tummy tuck, it is recommended that you sleep on your back in an elevated position to reduce any strain on your incisions and prevent wound damage. Many patients also benefit from using pillows to prop themselves up comfortably. To get used to sleeping in this position prior to surgery, try practising sleeping on your back in advance. Getting enough rest after a tummy tuck is essential in making a smooth recovery. In addition, make sure to wear your compression garments and take any necessary pain medication to ensure the most comfortable rest possible.
What is the fastest way to recover from a tummy tuck?

Your exact recovery timeline from a tummy tuck can depend on a range of factors, including the type of procedure you have undergone and how well you adhere to your surgeon's aftercare instructions. You can try several tips and tricks to ensure a smooth and speedy recovery, including keeping the incision sites clean and getting enough rest.
What is the best exercise after a tummy tuck?

In the days following your tummy tuck, your surgeon will encourage you to take short, gentle walks to promote circulation and proper healing. You may need to walk hunched over for the first 2-3 weeks to avoid straining the incision sites and associated complications. You can resume strenuous exercises after 6 weeks, such as jogging and swimming. You can also resume exercises targeted to strengthen the abdomen, such as planks and sit-ups.
Complementary Tummy Tuck Procedures
CREO Clinic offers a range of cosmetic surgery options in London and can combine your tummy tuck with related procedures for a more comprehensive body transformation.
Tummy Tuck (Abdominoplasty) and Liposuction
While a tummy tuck can remove the excess skin around the abdomen, patients that also require the removal of excess fat may need to combine the abdominoplasty with a liposuction procedure. Liposuction (suction-assisted lipectomy) is a cosmetic procedure that suctions out significant amounts of excess fat that are resistant to diet and exercise. When performing liposuction, a surgeon makes a small incision through which a suction tube is inserted into the area being treated.
Mummy Makeover
A mummy makeover is a comprehensive package of treatments, typically including a tummy tuck, liposuction and breast augmentation to target the areas most affected by pregnancy and breastfeeding. Patients may choose to use fat transfer or implants for their breast augmentation, or can opt for a breast lift or breast reduction if this is more suitable for addressing their aesthetic concerns. Overall, this series of surgeries helps women restore their pre-pregnancy figure by contouring the upper body.
Find out if you are eligible for

Tummy Tuck Surgery
Request a callback
Payment Options Available.
Terms and Conditions apply. Acceptance subject to credit status.
Request a callback