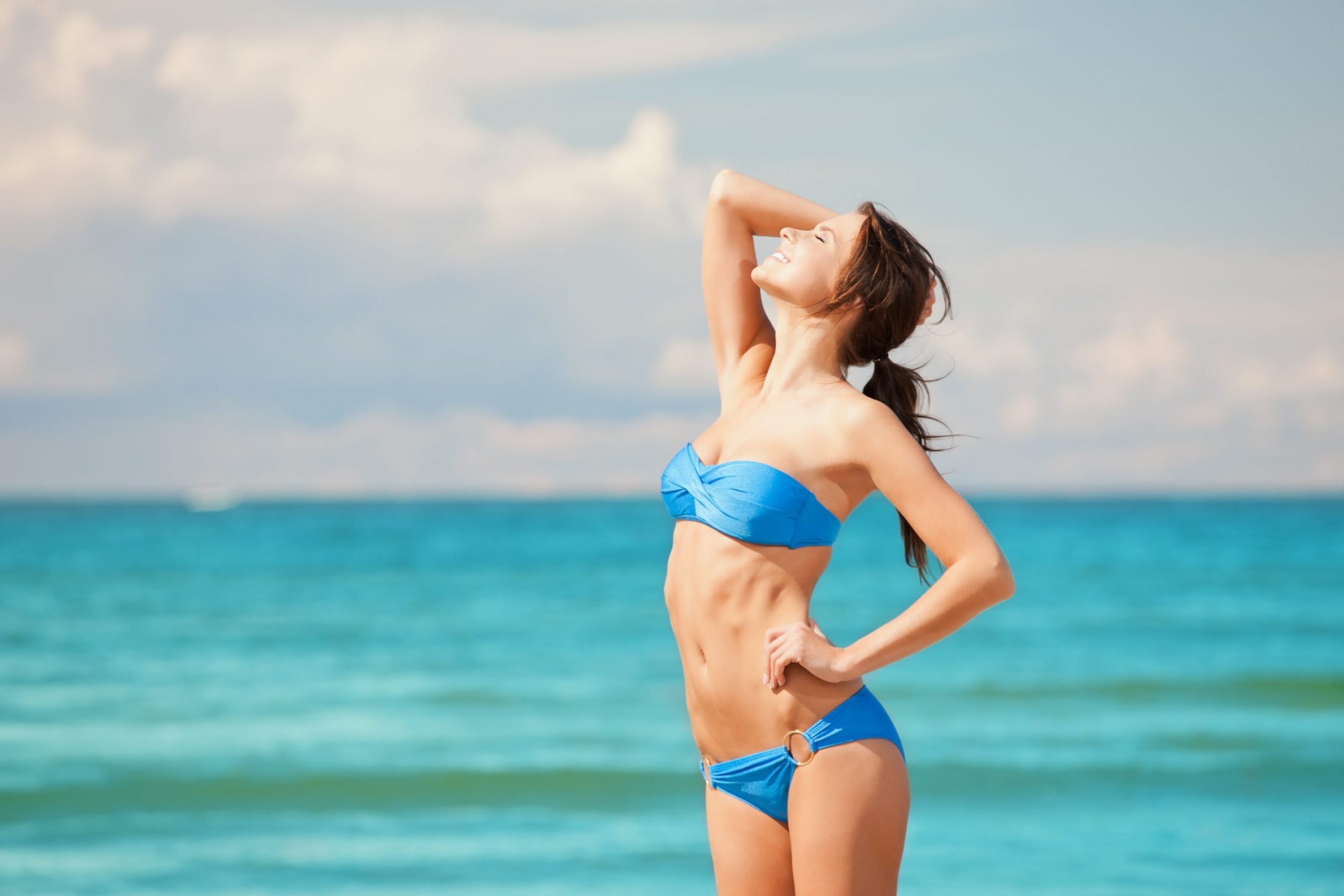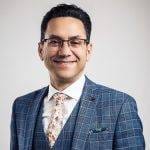 Medically reviewed by
Dr. Omar Tillo
MD, MS, EBOPRAS, FRCS (Plast)
After drastic weight loss surgery or pregnancy, it's common to be left with folds of loose skin in the abdomen, which obscures the definition in the area and distorts your figure. In such cases, a tummy tuck can be an ideal cosmetic procedure as it removes excess skin from the abdomen, along with any attached fat tissue. Read on for more information on how a tummy tuck procedure can get rid of loose skin and contour your abdomen.
Loose Skin After Weight Loss
It's common to have unwanted loose skin after weight loss. Your skin stretches when you gain weight to accommodate the excess fat, which then becomes redundant when the fat is lost. If you have experienced this, you may want a tummy tuck to remove excess skin and reveal the effects of your weight loss.
When you lose weight, the stretched skin loses the cushioning of the expanded fat cells, so the increased surface area can cause the excess skin to appear to 'hang' off the body. The older you are and the longer you've been overweight, the less likely it is that your skin will regain its original form following weight loss. Furthermore, your skin's overall health, which is affected by sun exposure, smoking, and other habits which damage collagen, can affect how easily your skin regains its elasticity and original shape.
Can Exercise Get Rid of Loose Skin?
Although losing weight through fat-burning exercises can leave behind loose abdominal skin where the fat once used to be, the right exercise routine can also help tighten the loose skin. Strength training exercises such as weight lifting, squats, and crunches are designed to build muscle mass, which can stretch the deflated skin that results from fat loss.
However, the extent to which exercise can get rid of loose skin is limited and depends on a range of factors, including the length of time you have been overweight, the amount of loose skin you have, and your genetics and age. Therefore, it is unlikely that you will achieve the same toning effects from exercise as you would from having the excess skin surgically removed.
Tummy Tuck for Loose Skin
Before and After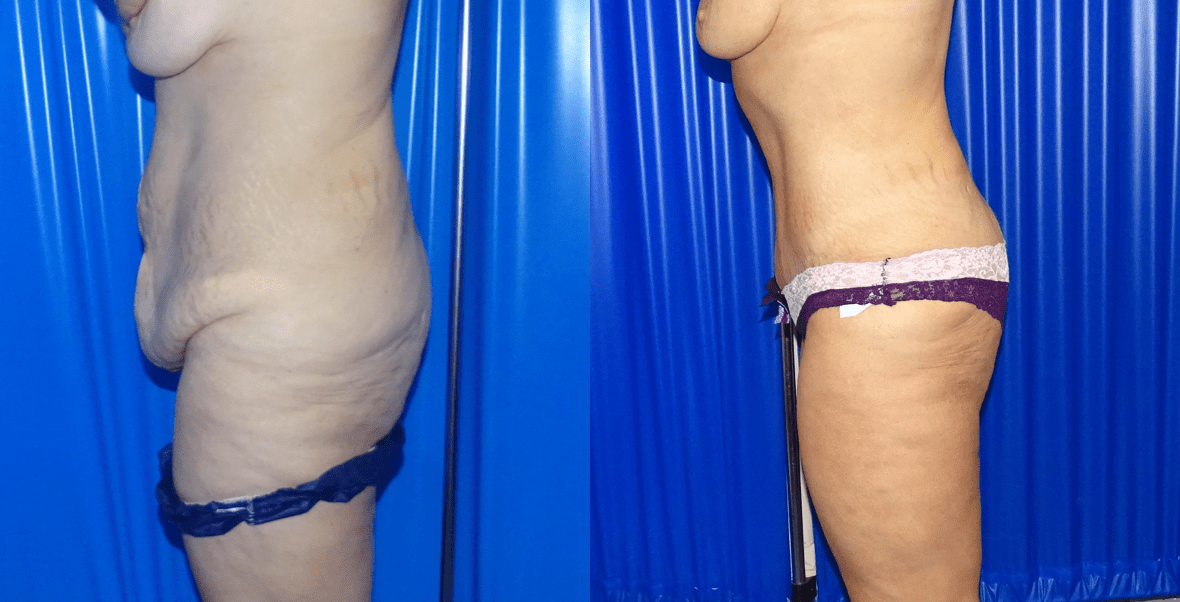 Cost
The cost of a tummy tuck in London at the CREO Clinic starts from £8,900 for a mini tummy tuck and £10,900 for a full tummy tuck. The prices may vary depending on the type of tummy tuck you choose and your individual treatment plan, which you will discuss with your surgeon during a consultation.
Procedure
You will be under sedation or general anaesthesia during the plastic surgery, which can last anywhere between 2-5 hours. The exact nature of the procedure will depend on the type of tummy tuck procedure you undergo. However, the most common variations are the full or mini tummy tuck.
A full tummy tuck will require an incision along your bikini line and navel and may involve the tightening of your abdominal muscles and the repositioning of your belly button. Whereas, a mini tummy tuck requires a shorter incision along the bikini line.
Recovery
After your tummy tuck surgery, you may notice swelling, bruising, and some discomfort in the affected area, which will gradually fade over the coming days and weeks. However, most patients feel able to resume most of their daily activities, including returning to work 1-2 weeks after their plastic surgery and resuming light exercise after 3-4 weeks. By the 12th week, most patients will have made a full recovery and feel able to resume all activities.
Results
The results of a tummy tuck are immediate as the removal of excess skin reveals a noticeably flatter stomach, and any muscle repair will make your core feel stronger. However, it may take 6-12 months for the final results of your tummy tuck to become fully visible. By this time, the residual swelling will have entirely dissipated to reveal a flatter, toned, and contoured stomach.
Tummy Tuck vs. Panniculectomy
A panniculectomy is a plastic surgery that gets rid of what is known as a pannus, which is a fold of overhanging skin in the lower abdomen that can extend all the way down to the knees. It usually results from extreme weight loss, and in some cases, during complications from pregnancy. As the plastic surgery only gets rid of the pannus, it is a less invasive procedure than a tummy tuck which tightens the skin of the full abdomen.
Furthermore, those who have a pannus will find it difficult to carry on with their daily routine and can develop a range of health issues such as ulcers, rashes, and back problems. Thus, most people seek a panniculectomy for functional reasons, whereas an abdominoplasty is a cosmetic surgery that is primarily performed for aesthetic reasons.
Is a Tummy Tuck Worth It?
A tummy tuck is a popular plastic surgery that provides a range of benefits for both men and women. Whether you want to regain a flatter stomach after pregnancy, tone your body after weight loss, or get rid of stretch marks, a tummy tuck can resolve many cosmetic concerns by getting rid of loose skin in the abdominal region. Additionally, in some cases, the tightening of the abdominal muscles can even alleviate ailments such as back pain. Thus, many tummy tuck patients consider it to be a worthwhile procedure.
Schedule a Consultation with CREO Clinic Today
If you want to improve the appearance of your abdominal area by removing loose skin, a tummy tuck may be an ideal cosmetic procedure.
Our cosmetic surgeon Dr. Omar Tillo specialises in body contouring and has extensive clinical experience carrying out all variations of tummy tuck procedures. Having performed the plastic surgery on hundreds of patients, he has acquired the skills to design a bespoke procedure that delivers natural-looking results.