What is Breast Augmentation?
Breast augmentation surgery, commonly referred to as a 'breast enhancement or 'boob job', is a popular cosmetic procedure aimed at enhancing the shape and volume of the breasts through the insertion of implants, fat transfer, or a composite treatment using both.
At the CREO Clinic, we work with Dr. Omar Tillo, a body contouring surgeon with significant experience performing breast reconstructive surgeries of varying complexities.
Contact the CREO Clinic to book a consultation for breast augmentation surgery in London with Dr. Tillo to discuss a bespoke surgical solution that will give your breasts an enhanced and balanced appearance.
Patients may pursue breast augmentation surgery to add additional volume to the breasts, or to restore symmetry in the shape and size of the breasts. This helps to create a more proportionate and contoured upper body, and can give patients the confidence they need to wear more form-fitting clothing.
Dr. Tillo has mastered the art of composite breast augmentation, allowing his patients to enjoy the combined benefits of fat transfer and breast implants in a single advanced surgical procedure. This helps patients gain more volume in their breasts while maintaining the natural appearance and feel of the breasts. Your eligibility for breast augmentation surgery along with the best option for you will be discussed during your consultation with Dr. Tillo.
Quick Overview of Breast Augmentation Surgery
Anesthesia
Sedation or General
Breast Augmentation Before and Afters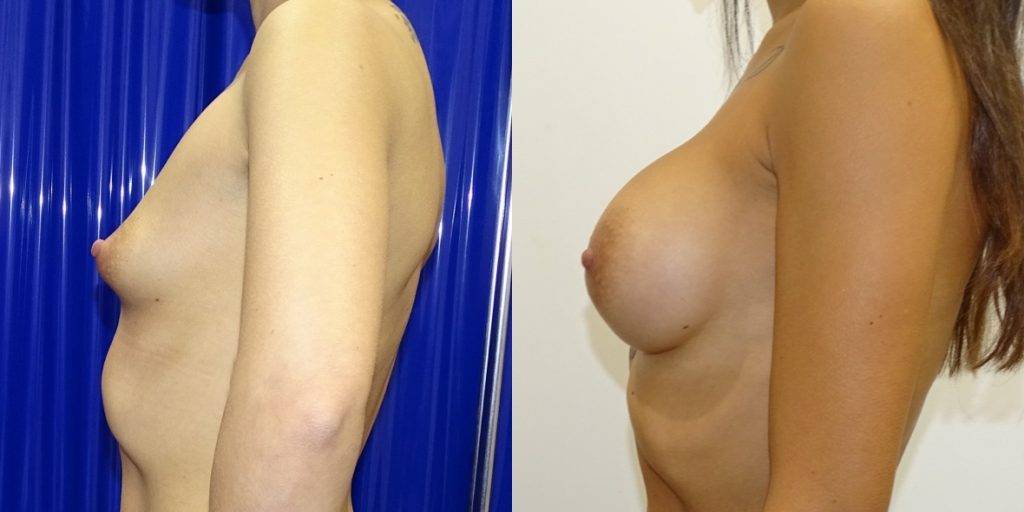 Read Our Patient Reviews
See what real CREO Clinic patients in London have to say about having their breast augmentation surgeries performed by Dr. Omar Tillo.
Benefits of Breast Augmentation
Breast augmentation is a popular cosmetic procedure that provides patients with full and balanced breasts that enhance the shape of their bodies. Many patients consider it to be a worthwhile procedure as it corrects their aesthetic concerns and restores their self-confidence.
More specifically, breast augmentation can help patients address a range of issues concerning the appearance of their breasts:
Breast augmentation can enlarge breasts that are considered too small.
To restore lost volume in the breasts, for example, as a result of rapid weight loss, pregnancy and breastfeeding, or due to the ageing process.
Breast augmentation can create balance and symmetry in breasts that appear uneven or asymmetrical.
Who is a Good Candidate for Breast Augmentation Surgery?
A good candidate for breast augmentation surgery should meet the following criteria:
Patients should be of adult age with fully developed breasts.
Patients should be in good physical and psychological health, with a BMI lower than 30.
For patients undergoing fat transfer breast augmentation, they will need to have a sufficient amount of fat that can be harvested for the procedure.
Patients should have concerns over the size or shape of their breasts and wish to add volume to enhance the appearance of the chest.
Patients should have reasonable expectations about the results that breast augmentation can achieve.
Find out if you are eligible for

Breast Augmentation
Request a callback
Payment Options Available.
Terms and Conditions apply. Acceptance subject to credit status.
Request a callback
How Much Does Breast Augmentation Surgery Cost in London?
In general, the price for breast augmentation surgery in London starts from £6,900, and from £10,900 for a breast composite augmentation. The exact cost of a breast augmentation procedure varies depending on the individual surgical needs of each patient.
At the CREO Clinic, we also offer financing options through our partners, Chrysalis Finance. This means that you can spread the cost of your treatment with interest free financing for up to 12 months, and at variable rates for longer repayment agreements.
Breast Augmentation Surgery Options
Breast Implants
Breast implants can provide larger increases in the volume of the breasts compared to alternative methods like fat transfer.
When inserting breast implants, Dr. Tillo must tailor the procedure according to the anatomy and requirements of each patient.
Therefore, the treatment options vary according to a range of factors:
Size of Implants
Implants are available in a variety of shapes and sizes, which give different levels of projection and enhancement to the breasts. The size of the implants used for your surgery varies depending on your body type, breast shape, desired outcome, and other factors.
During your consultation with Dr. Tillo, a full assessment will be carried out to assess the most appropriate size of implant for you and your body. In addition, for patients who request a 3D consultation via Crisalix, you will be able to visualise different implant sizes and how they will look on your body, which can help you choose the most appropriate size.
Placement of Implants
Our cosmetic surgeon places implants in relation to the pectoralis major (or pec muscle), which is the major muscle beneath the breast tissue. There are different surgical techniques involved in breast augmentation surgery that determine the placement of implants:
You can choose to place the implant on top of the muscle (pre-pectoral placement), beneath the muscle (subpectoral placement), or partly under the muscle and over the muscle (dual plane technique).
The placement of implants varies depending on the thickness of your breast tissue. Determining where to place the implants requires a great deal of expertise and skills. Having performed hundreds of breast implant surgeries, Dr. Tillo will advise the best technique for you during a consultation.
Type of Implants
There are two main types of breast implants used in cosmetic surgery:
Saline Implants
Saline implants contain a solution of salt and water. The advantage of saline implants is that, in the event of the implant rupturing, the body absorbs the saline solution.
However, these implants feel less natural, and the saline solution often produces a rippling effect on the implants, which can be noticeable when inserted beneath the skin.
Silicone Gel Implants
Silicone is a synthetic substance that has a texture similar to that of human fat. Silicone implants are more commonly used in breast augmentations as it delivers a more natural-looking and feeling result. At the CREO Clinic, we use Sebbin implants, among others.
Fat Transfer Breast Augmentation
Fat transfer breast augmentation uses the body's own fat cells to add volume to the breasts, creating a more natural looking and feeling result.
This procedure involves harvesting excess fat cells from one area of the body using liposuction, This fat is then processed and injected into the breasts to create a subtle enhancement. As a result, patients can contour multiple parts of the body by adding volume to and enhancing their breasts while toning the liposuction zones, such as the abdomen and hips.
While implants remain the more popular treatment option for breast augmentation, some patients opt for a fat transfer because they prefer the organic method and the more subtle enhancement provided by the surgery.
Breast Implants vs. Fat Transfer Breast Augmentation
Choosing between fat transfer vs. implants for breast augmentation means comparing the advantages and disadvantages of each option, as summarised below:
| | | |
| --- | --- | --- |
| | Fat Transfer | Implants |
| Results | Modest enhancement to the breasts, tones liposuction areas | Substantial enhancement to the breasts |
| Anaesthetic | Sedation or general | Sedation or general |
| Scarring | Minimal | Visible scarring under breast crease, around the nipples, or in the underarm |
| Recovery | 4-6 weeks | 6 weeks |
| Longevity | Permanent | Permanent |
| Price | Fat transfer breast augmentation cost typically similar to implants | Similar to fat transfer |
Composite Breast Augmentation: Implants and Fat Transfer
At the CREO Clinic, Dr. Tillo uses an advanced technique called composite breast augmentation to achieve a more natural shape. The composite breast augmentation procedure involves combining implants with fat transfer, thus conferring the advantages of both procedures.
By combining both treatment options, a composite breast augmentation can mitigate the cosmetic risks that sometimes occur when solely using implants or fat grafts. As the surgeon has greater control over the shape of the breasts, they can conceal any imperfections created by the implants using fat grafts, thus producing both a substantial enhancement that looks and feels more natural.
Why Choose CREO Clinic
CREO Clinic is recognized as one of the UK's leading plastic surgery clinics for breast augmentation procedures in London. We pride ourselves on the expertise of our surgeons and the transparency we have with our patients.
About Dr. Tillo
Dr. Tillo is a double-board certified surgeon specialising in a range of body contouring procedures, including breast augmentation. Through his extensive work in both the NHS and private practice, Dr. Tillo has amassed significant experience conducting breast augmentations of all types and complexities. In addition, he is particularly renowned for his composite breast augmentation procedures, due to his specialism utilising fat transfer as both a stand alone method of augmentation, and to enhance the benefits of implants.
At the CREO Clinic, Dr. Tillo will diligently work with you to design a bespoke treatment plan tailored to your unique anatomy and the results you wish to achieve.
What to Expect
If you are considering having breast augmentation surgery at CREO Clinic, here is what you can expect from the experience.
Consultation
We offer both online or in person consultations to give patients the flexibility they need. During your initial consultation with Dr. Tillo, you will discuss the results you wish to achieve and what you can reasonably expect your breasts to look like after breast augmentation surgery.
For patients who have arranged a 3D consultation with Dr. Tillo using their own photos, you will be able to visualise your breasts after surgery using the latest technology.
Preparing for Surgery
Prior to breast augmentation surgery, you will be asked to take the following preparations:
Maintain a stable weight at a healthy BMI – This helps to reduce the risk of complications during and after surgery.
Stop taking oestrogen contraceptives or HRT – Four weeks prior to surgery, you will need to stop taking these medications to prevent the risk of blood clots.
Cease smoking – Do not consume nicotine 4 weeks prior to and after surgery, including cigarettes, vaping and patches.
Cut down on alcohol consumption – Avoid binge drinking in the two weeks before surgery,
Prepare your home for recovery – Make sure you have any pet or child care in place in the initial stages of recovery
The Breast Augmentation Procedure
When inserting implants, the surgeon makes incisions under the creases of the breasts, beneath the nipples, or in the underarm, depending on the type of implant being inserted. We will then position the implants through the incisions using one of the three methods discussed above. Finally, we will stitch close the incisions.
When transferring fat to the breasts, the surgeon will first perform liposuction on predetermined areas of the body containing excess fat. Afterwards, the extracted fat cells will be purified and directly injected into specific areas of the breast to achieve your desired shape. Both the liposuction and fat injections require tiny incisions and therefore do not leave behind noticeable scars.
Recovery and Aftercare
Immediately after the breast augmentation surgery, you may experience soreness, swelling, and tightness around the breasts. These side effects will gradually dissipate over the following week or two, after which you should feel able to return to work.
Overall, recovery from breast augmentation surgery typically takes six weeks, during which time you will be required to wear a compression garment to minimise swelling. Once you have fully recovered, you will also be able to resume your normal workout routine.
Results
While the results of breast augmentation surgery are immediately apparent following the procedure, it may take a few months for the results to become fully visible and feel natural. This is because it takes time for the swelling to completely subside and for the skin to stretch and accommodate the implants.
For patients who have had fat transfer, you can expect the body to absorb 30-50% of the fat grafts within the first 3-6 months. However, your surgeon will account for this loss when deciding the amount to be injected. After this period, the fat grafts will stabilise and your final results will be fully visible.
Furthermore, you can expect any scars around the incision site to fade in several months to a few years. For patients concerned about their scarring, the CREO Clinic offers laser scar treatment to minimise the appearance of any scars after your breast augmentation.
Risks of Breast Augmentation Surgery
Dr. Tillo will take every necessary precaution to avoid the rare risk of complications during and after surgery. However, like any surgical procedure, breast augmentation carries some degree of general risk. For example, bruising and swelling, infection and bleeding.
Risks specific to breast implants include, but are not limited to:
Loss of nipple sensation
Asymmetry of the breasts
Haematoma
Capsular contraction
Implant rotation, loss or rupture
Aesthetic complications – ripping, wrinkling or feeling/appearance of implant edges
Breast Augmentation FAQs
Is breast augmentation right for me?

If you are looking to increase the volume of your chest and enhance the breast shape, a breast augmentation could be an ideal procedure for you. In addition, you should be in good physical and psychological health, within a suitable BMI range and with reasonable expectations of what a breast augmentation can provide.
Will the results of breast augmentation look natural?

Following a consultation with your surgeon, the right size and shape implants for your body shape to achieve a natural finish will be discussed. In general, we aim to provide natural-looking results, though some patients may prefer a more exaggerated look with larger implants. Fat transfer breast augmentation can also utilise the body's own organic material to enhance the chest. This transferred fat is more natural in appearance and to the touch.
Will I have noticeable scars from breast augmentation?

The extent of scarring following a breast augmentation can depend on a range of factors, including adherence to aftercare instructions and the surgical techniques used. For example, fat transfer breast augmentation requires smaller incisions around the liposuction zones and breasts where the fat is injected, whereas implants require larger incisions underneath the creases of the breast, around the nipples or in the underarm. However, Dr. Tillo will try to minimise the appearance of scars by strategically making incisions in places that blend with the natural contours of the body, or can be hidden easily with undergarments. In general with the proper aftercare, any resultant scarring should flatten and fade in several months to a few years. For patients wishing to minimise the appearance of scarring further, The CREO Clinic offers specialist laser scar treatment to improve the appearance of the skin.
How should I decide between breast implants and fat transfer breast augmentation?

Although implants are the more popular method of breast augmentation, patients who have sufficient fat to harvest and are seeking a more moderate enhancement to the breasts by using the body's own material may prefer to undergo fat transfer breast augmentation. With this method, patients can expect to increase their breast size by up to one cup.
What different types of implants are available?

At the CREO Clinic, we work with different manufacturers of implants to deliver the best quality for our patients. However, breast implants can typically be divided into two major categories: – Saline implants – contain salt water and, in the unlikely event that they rupture, this solution can be absorbed by the body. However, this type of implant typically feels less natural to silicone and can cause a rippling effect, altering the texture of the skin where the implants are placed. – Silicone implants – consist of a synthetic substance with a similar texture to fat tissue, producing a more natural looking and feeling result. However, silicone implants are typically more expensive than saline-based implants.
How should I choose my breast implant cup size?

During consultation, you can discuss the results you wish to achieve and whether this is safely attainable. There are a range of factors that determine your suitability for different implant sizes. These include the amount of current breast tissue and the amount and elasticity of the skin around the breasts. If you have arranged a 3D consultation, you will be able to try on different sizes using the photos of your own body. This can help you further visualise the likely results of the procedure on your figure, helping you to decide which size is most suitable.
Are breast implants safe?

Breast augmentation is generally safe and only carries a rare rate of complications. However, like any surgical procedure, there are some potential risks associated with breast implants, such as haematoma, capsular contraction, infection and implant leakage or rupture.
How long will breast augmentation surgery take?

Breast augmentation surgery typically takes between 2-3 hours to complete, depending on the complexity of the surgical techniques required.
How long is the recovery period after surgery?

After your breast augmentation, you may experience side effects such as soreness, swelling and tightness around the breasts, which should gradually subside within the first few weeks. Patients are usually fully recovered after six weeks, at which stage they are able to resume their regular exercise routine. However, most patients feel able to return to work and resume most light, daily activities 1-2 weeks after surgery.
When can I return to work after breast augmentation?

Your return to work will be determined on the nature of your job and how physically active you are required to be. In general, most patients are able to return to office-based work 1-2 weeks after surgery, and can resume more physically taxing jobs once they are fully recovered, which typically takes up to 6 weeks.
How soon can I exercise after breast augmentation?

Patients will have to wait until they are fully recovered before resuming their exercise routine. For most patients, this takes around six weeks.
Will I have to wear a compression garment?

During the first six weeks after surgery, you will be required to wear a compression bra. This will help to manage any post-operative swelling around the breasts and alleviate any associated discomfort.
What is the difference between breast augmentation and breast lift?

A breast augmentation is a surgical procedure that increases the size of the breasts using implants, and in some cases, through a fat transfer procedure. Whereas a breast lift is a surgery that elevates sagging breasts by lifting and tightening the existing breast tissue.
Are breast augmentation results permanent?

The final results of a fat transfer are permanent as the injected fat cells will integrate into your blood supply and become a part of your breasts. In contrast, although breast implants are permanent, they are usually replaced every 10-15 years for several reasons, including that the implants can wear out and rupture with time. While this isn't harmful to the body, the rupture can change the size and shape of the breasts and will therefore need to be replaced in order to maintain results. Breast implant patients can also develop capsular contraction, which is where the scar tissue around the implant hardens, causing pain and discomfort around the breasts. Your body changes with time, due to ageing, fluctuations in weight, and pregnancy. Therefore, you may wish to replace your implants in order to make your breasts look proportionate and natural to the altered shape of your body.
Does breast augmentation affect nipple size?

A breast augmentation does not significantly affect the size of the nipple, although it may cause the areolas (the pigmented skin around the nipple) to stretch and appear slightly bigger than before. Furthermore, the nipples can look puffier due to post-surgical swelling, which should subside in a few weeks. If you have concerns around the change in your areola size, you may wish to consider areola reduction surgery.
Will breast augmentation help stretch marks?

While a breast augmentation won't eradicate stretch marks around the breasts, it can improve its appearance by adding volume to the area and stretching out the skin. However, there may be less invasive treatments that are more suitable for improving your stretch marks that can be discussed during your consultation, such as laser stretch mark treatment.
How often should breast implants be replaced?

Breast implants don't have an expiry date, and only need to be replaced in the rare case that a patient experiences complications. For example, if the implant ruptures or becomes infected. Patients may also wish to remove or change the size of their implants for aesthetic purposes.
Complementary Procedures
Breast Augmentation and Tummy Tuck
A tummy tuck, also known as an abdominoplasty, is a surgery that removes excess skin and fat from the abdomen and tightens the muscles in the area to produce a flatter and toned stomach. The combination of breast augmentation and tummy tuck is also known as a mummy makeover procedure, as pregnancy can leave women with saggy breasts and excess skin around the abdomen.
Many women undergo both procedures simultaneously to achieve a more contoured appearance and for the convenience of combining the recovery period for both surgeries.
Breast Augmentation and Breast Lift
A breast lift, or mastopexy, is a surgical procedure to lift and reshape the breast tissue by removing excess skin, creating a perkier, more youthful appearance. Performing a breast lift with breast augmentation can significantly increase the volume and projection of the breasts that many women desire.
Schedule a Consultation with CREO Clinic
If you are considering a breast augmentation, contact the CREO Clinic today to book your consultation with Dr. Tillo, our body contouring and breast reconstructive specialist.