What is a Thigh Lift?
A thigh lift is a cosmetic surgery that removes excess skin and fat from the thighs for a more contoured look.
A thigh lift procedure removes loose or sagging skin folds, reducing excess tissue and tightening the remaining skin to create a natural-looking contour. This is an excellent treatment for people left with additional skin after rapid weight loss who wish to have more toned legs.
Dr. Omar Tillo specialises in a range of body contouring procedures, including thigh lifts. As a highly experienced plastic surgeon, he can adapt his approach to each patient's needs and desired results by utilising various surgical techniques. His priority is to safely and artfully contour the body while providing patients with results that look natural.
Contact the CREO Clinic today to book a consultation with Dr. Tillo and discuss your cosmetic concerns, desired results, and suitability for the procedure.
Anesthesia
Sedation or General Anaesthesia
Benefits of Thigh Lift Surgery
Address skin laxity caused by ageing – A thigh lift can help tighten skin that has naturally lost elasticity with age
Tighten loose skin from weight loss – Drastic weight loss can lead to lax skin on the thighs – a thigh lift works to tighten this up and restore a smooth, firm contour.
Boost confidence – Sagging skin may result in a reluctance to wear certain clothing, like swimwear or high waisted jeans. A thigh lift can help boost your confidence and allow you to feel less restricted in your choice of clothes.
Thigh Lift Before and Afters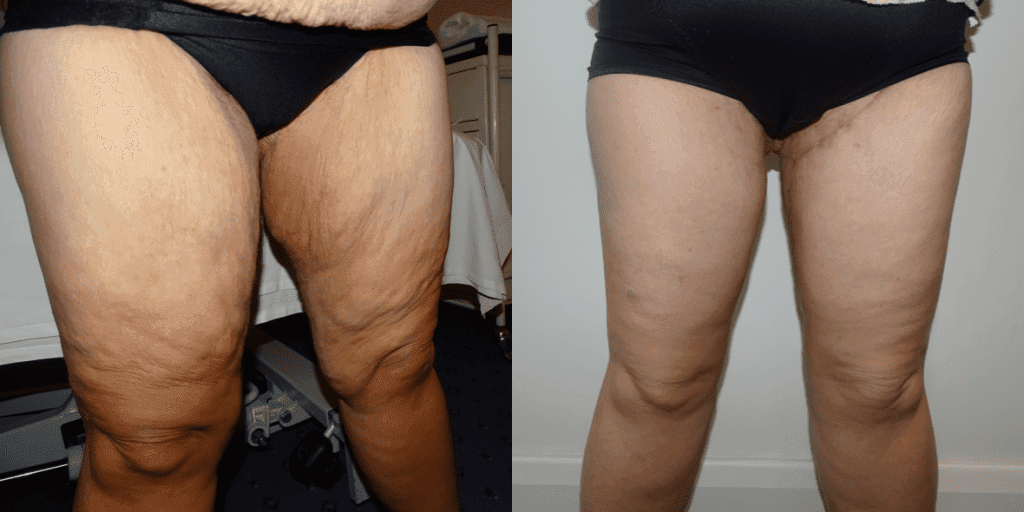 Who is a Good Candidate for Thigh Lift Surgery?
Ideal candidates for thigh lift surgery will:
Be in good physical and psychological health
Have realistic expectations of the enhancements a thigh lift can offer
Wish to remove excess fat and lax skin in their upper legs
Be at, or close to their ideal body weight. Patients should be at have a BMI of 30 or below (Check with our BMI calculator)
It is important to note that Dr. Tillo will thoroughly assess your suitability for a thigh lift during your consultation.
How Much Does a Thigh Lift Cost in London?
In general, prices for a thigh lift at the CREO Clinic starts from £9,900. A thigh lift is an individualised procedure, the cost of which varies depending on the type of thigh lift and surgical needs of each patient. Therefore, you will receive the exact cost of your procedure following a consultation with Dr Tillo.
Should you wish to spread the cost of the procedure over a longer period, our financing partner, Chrysalis Finance, provides 0% APR loans over 12 months. Longer periods are available at varying rates.
The cost of a thigh lift includes the procedure itself, your compression garments and bandages, as well as personalised after-care consultations with Dr. Tillo to monitor your recovery. The price does not include private prescriptions or concierge fees.
Why Choose CREO Clinic
Choosing a clinic you can trust is of paramount importance when planning your thigh lift. The CREO Clinic has a proven history of providing the highest standard of surgical outcomes while always prioritising safety, comfort, and communication.
The CREO Clinic always provides you with a specialist in your chosen procedure. Body and face procedures are only planned and performed by practitioners with expert knowledge in each field, ensuring that the techniques used are the safest, most advanced, and most effective available in modern cosmetic surgery.
We want you to feel safe in the knowledge you are being looked after by top medical professionals who not only value great aesthetic results, but also your personal well-being, from the very first consultation to the end of your recovery.
About Dr. Omar Tillo
The CREO Clinic's Medical Director, Dr. Omar Tillo, has performed hundreds of successful thigh lift surgeries over his career and is an accomplished cosmetic surgeon. An expert in a variety of body contouring procedures, he has the knowledge and skill to understand your aesthetic needs and meet them through a bespoke treatment plan.
Dr. Tillo is a Fellow of the Royal College of Surgeons (FRCS) in Plastic Surgery, a member of the British Association of Aesthetic Plastic Surgeons (BAAPS), and is on the register for the UK General Medical Council (GMC) Specialty Register for Plastic and Reconstructive Surgery. His qualifications and specialisation in body contouring mean you can feel safe that you are in the hands of a highly experienced practitioner.
What Surgical Techniques Does a Thigh Lift Involve?
The main technique Dr. Tillo will use to contour your thighs is skin excision — the targeted removal of excess loose skin using discreet incisions. The incisions used vary depending on your aesthetic needs, but they are usually made on the inside or outside of your thigh, the groin, or the buttock fold. A section of skin is removed and the gap that remains is closed up, tightening and firming up the skin of your thigh.
Where possible, incisions are made where the resulting scars can be more easily concealed. Your thigh lift scars will also fade over time, becoming less and less visible.
Types of Thigh Lifts
The surgeon usually uses one of the following surgical techniques when performing a thigh lift to produce your desired outcome:
Mini Thigh Lift
A mini thigh lift involves an incision along the natural crease that separates the pubic area from the thigh, concealing the resulting scars. It allows the surgeon to remove saggy fat and skin from the upper thigh and lift and tighten the remaining skin. A mini thigh lift is the most common type of thigh lift, often performed on patients who have moderate to severe skin laxity in the upper area of the thighs.
Vertical Thigh Lift
A vertical thigh lift, or inner thigh lift, involves a crescent-shaped incision on the inner thigh area that extends from the upper end of the thigh down to the knee. This longer incision allows the surgeon to remove more excess skin and fat from the entire thigh. However, patients are left with a scar along the inner thigh when the incisions are closed. A vertical thigh lift is ideal for patients with a significant amount of excess skin in the entire thigh area.
Outer/Lateral Thigh Lift
An outer or lateral thigh lift involves an incision around the waist. It allows the surgeon to remove excess skin on the thighs, waist, and buttocks. Afterwards, our cosmetic surgeon lifts the remaining skin and tightens it by stitching the incisions, leaving a scar around the hip bone. An outer thigh lift is ideal for patients who have significant excess skin from the waist to the thighs they wish to get rid of to tone their thighs.
Posterior Thigh Lift
A posterior thigh lift usually involves an incision from the natural crease of the groin area that extends around the crease in the buttocks. However, the placement of the incisions varies depending on the patient's body shape. The posterior thigh lift aims to remove excess skin on the back of the thighs and the buttocks. This procedure also improves the appearance of cellulite, which is usually most noticeable in the posterior region.
Spiral Thigh Lift
A spiral thigh lift involves an incision along the buttock fold and another incision in the front along the crease between the pubic area and upper thigh. It allows the surgeon to perform a 360-degree thigh lift that removes excess skin and lifts and tightens the remaining skin in the anterior and posterior of the entire thigh region and buttocks.
Therefore, a spiral thigh lift is ideal for patients with a significant amount of excess skin around the entire region between the hips and the knees, usually due to drastic weight loss.
What to Expect
Consultation
The most important step for making an informed decision about your thigh lift is to have an initial consultation with Dr. Tillo. This consultation will give him the opportunity to ask questions about your hopes for the procedure and to assess your needs, then take you through the different surgical options that will help work towards your body goals.
Measurements will be made and photographs taken to help Dr. Tillo understand the full clinical picture. You also have an opportunity to put your questions to him and clear up any queries you may have.
Dr. Tillo will take the time to have an in-depth conversation with you regarding the potential risks of the procedure, and talk you through the most important details of the recovery period. He will also make an assessment of your suitability for the surgery, taking into account your medical history and current physical and mental health.
Preparation for Thigh Lift Surgery
There are some important steps you are advised to take in the lead up to your thigh lift procedure:
BMI – To reduce the risk of complications, ensure your BMI remains under 30.
Oestrogen contraceptive/HRT – You will need to stop taking oral contraceptive pills or HRT starting from four weeks before your surgery in order to reduce the risk of thrombosis. Use alternative forms of contraception during this period.
Alcohol – Try to reduce your consumption of alcohol in the run-up to your thigh lift as alcohol can delay incision healing.
Smoking – You must refrain from smoking nicotine in any form (smoking, vaping or patches) during the four weeks preceding your thigh lift surgery, as nicotine can increase the possibility of complications.
Prepare your home – It is vital to make your home comfortable for your recovery. Make sure any home responsibilities that require physical exertion (e.g. caring for pets/children) can be undertaken by someone else until you are sufficiently recovered.
During the Procedure
The thigh lift procedure is performed under general anaesthesia and takes roughly 2-3 hours in total, depending on the severity of the loose skin that is being excised. A thigh lift is a day case, meaning you will be able to go home on the same day.
Dr. Tillo will create an incision in a particular area of your thigh, then surgically remove a section of subcutaneous fat and excess skin. The gap that remains will be closed up with dissolvable sutures. As an experienced surgeon, Dr. Tillo understands what is required to minimise scarring, and is diligent in creating and closing incisions with great care.
The placement of the incisions will depend on the type of thigh lift you are having. A mini thigh lift procedure involves an incision along the crease of your groin, whereas a vertical thigh lift surgery requires a crescent-shaped incision along the inner thigh from the top down towards the knee. An outer or lateral thigh lift requires an incision around the waist, and a posterior thigh lift makes an incision along the buttock crease. Finally, a spiral thigh lift makes one incision along the buttock crease and another between the groin and upper thigh.
Once the incisions have been closed up, sterile dressings will be placed on them and your compression garment supplied to you to help reduce the level of inflammation as you recover.
Thigh Lift Recovery & Aftercare
The recovery period for a thigh lift surgery varies depending on the nature of your procedure. You will also receive detailed aftercare instructions to manage the recovery process and we will schedule two follow-up visits with Dr Tillo.
During the recovery period, you may experience swelling, bruising, and soreness in the affected area that gradually dissipates over the coming days and weeks. To help reduce inflammation, a compression garment should be worn for at least six weeks after the surgery.
Typically, most patients return to work and resume light activities 10-14 days after the surgery. However, you will need to avoid more strenuous activities such as heavy lifting until eight weeks after the surgery.
Thigh lift Results
Following the surgery, you will notice an immediate change in the appearance of your thighs, which will look and feel slimmer without the excess skin. However, the full results will become apparent once the residual post-surgical swelling completely subsides, which may take at least four weeks with continuous improvement up to 12 months. By this time, your thighs will appear more contoured and toned.
Potential Risks of Thigh Lift Surgery
As with any surgery, a thigh lift may present some risks, such as:
Significant long-lasting swelling (several weeks post surgery)
Bruising at the treatment sites
Infection
Damage to nerves
Blood clots
Complications resulting from anaesthetic
Numbness around thighs
Seromas (fluid accumulation under skin)
Excessive bleeding after surgery
Hypertrophic scarring
Fat necrosis
Thigh Lift FAQs
What is the goal of a thigh lift?

The goal of a thigh lift is to reduce excess fat and lax skin in the thighs, creating a smooth and tight contour.
How long will thigh lift surgery take?

In general, your thigh lift should take around two hours, but can vary depending on the surgical techniques required.
Who will perform my thigh lift surgery?

Your thigh lift surgery will be performed by the CREO Clinic's medical director, Dr. Omar Tillo. He is an expert body contouring surgeon – an experienced practitioner who has performed countless successful thigh lifts over his career.
Is a thigh lift painful?

You will be unable to feel pain during the procedure as you will be under general anaesthetic, but most patients find that there is some discomfort afterwards, particularly during the first week. Individual experiences vary, but it is likely that more intrusive incision types will result in greater discomfort. Should you feel you are experiencing unusual levels of pain, discuss this with Dr. Tillo immediately so he can assess your situation.
Will a thigh lift leave a scar?

As with any surgery, a thigh lift leaves some scarring, but Dr. Tillo will always try to blend the incisions as subtly as possible to match the natural contours of the body The scars will also fade over time, becoming less and less visible. Laser skin resurfacing can also help to further reduce scar visibility. Targeted laser treatments can remove the top layers of scar tissue and encourage the regrowth of new skin, thereby making the scar less noticeable.
Will a thigh lift get rid of cellulite?

A thigh lift can improve the appearance of cellulite as the procedure smoothes out the thighs by removing saggy skin and tightening the remaining skin. However, there may be more effective and less invasive cosmetic treatments for cellulite that you can discuss with your surgeon.
When will I see the results of a thigh lift?

You will see an immediate reduction of excess fat and skin on your thighs. The full results will become clear after your swelling has completely subsided – usually after four weeks with constant improvement up to 12 months after surgery.
How can I decide which type of thigh lift is right for me?

It is important to discuss your aesthetic goals for your thighs with Dr. Tillo, as he can help you understand the options best suited to your needs. He will present the most appropriate option for you depending on the characteristics of your lower body.
Will I lose weight as the result of a thigh lift?

While it is not a weight loss treatment, thigh lift does remove some weight via the lax skin and fat excised during the surgery.
Are the results of a thigh lift permanent?

A thigh lift produces long-lasting outcomes. However, to maintain results, it's essential that you adhere to a healthy lifestyle as any fluctuations in weight can lead to the development of further excess skin. Furthermore, your results will likely diminish with age as your skin loses its elasticity – skin laxity treatments such as BodyTite are likely to provide simple and effective maintenance for your thigh lift results over time.
Can you walk after a thigh lift?

Patients usually find it difficult to walk the first 24 hours after the surgery, and may need a few days of bed rest. However, patients are encouraged to take short walks and gradually ease themselves back into light activities as soon as they feel able to do so.
When can I return to work after surgery?

Most patients find they are able to return to work after 10-14 days.
Is a thigh lift worth it?

The thighs are an area of the body that many people wish to contour to improve their lower body proportions, especially after a pregnancy or drastic weight loss. Therefore, many patients who have the procedure consider it worthwhile and are satisfied with the shape of their body afterwards. Furthermore, due to the different variations of a thigh lift, patients can discuss the surgical procedure that is most appropriate for addressing their concerns.
Complementary Procedures
Thigh Lift and Liposuction
Liposuction, also known as suction-assisted lipectomy, is a surgery that removes excess fat deposits from targeted areas of the body. In many cases, surgeons combine both procedures to further sculpt and contour the thighs for optimal results.
In particular, liposuction targets fat deposits that are often resistant to diet and exercise.
Therefore, combining both procedures is ideal for patients who have reached their ideal weight and need a cosmetic treatment to remove the remaining excess fat and skin.
Thigh Lift and Tummy Tuck
Many patients that require a thigh lift also have excess skin folds in the abdomen. A tummy tuck, also known as abdominoplasty, is a surgery that removes excess skin and fat in the abdomen while also tightening the muscles in the area. By combining both procedures, patients can obtain both a flatter stomach and toned thighs.
Thigh lift and Mummy Makeover
A mummy makeover is a series of body cosmetic surgeries that restore women with their pre-pregnancy bodies. The procedure typically consists of breast augmentation, tummy tuck, and liposuction. However, you can add other treatments or substitute according to your desired results. Many women choose to include a thigh lift in their mummy makeover as this helps to provide a holistic, full body transformation.
Thigh Lift and Buttock Lift
A buttock lift is a surgery that reshapes the buttock by removing excess skin and fat from the area. The combination of a thigh lift and buttock lift is also known as a lower body lift. Many patients accumulate excess fat in the thigh and bottom and are therefore left with excess skin after drastic weight loss or develop severe cellulite in these areas. Therefore, a lower body lift is an ideal cosmetic solution for such patients.
Schedule a Thigh Lift Consultation with CREO Clinic
To see the transformative benefits of a thigh lift, book a consultation today with Dr. Omar Tillo, the CREO Clinic's double board-certified cosmetic surgeon.
Dr. Tillo is a practitioner at the forefront of the body contouring field. He has a depth of experience with a range of patient needs, allowing him to create personalised treatment plans that achieve optimal enhancements while always prioritising your safety and comfort.